President's Message
Thankfully we are winding down Winter and I hope this message finds you well.
2023 has started on a very positive note for our Club.
We are rebuilding membership which now stands at 218, one of the largest men's club in Canada. And thanks to our members who continue to invite guests to our meetings. Keep up the good work as guests are our best source of new members.
Our meetings continue to be well attended as we have a roster of interesting and compelling guest speakers. Many thanks to our Speakers Committee of Doug Ellsworth, Bill Patrick and Bruce West for leading this charge.
On another front we have experienced an upsurge in new social activity and events thanks to the work of Bruce West and Doug Smith and those of you who have volunteered to organize and lead in these initiatives.
A prime example was our recent dinner and Collingwood Blues hockey game which was enjoyed by all. This is the type of social interaction which will stand our club in good stead.Thanks to Jake Johnston for organizing this successful event.
We are still working to augment our Management Committee in the long term interests of the club...Vice President, Social Coordinator and Marketing/Communications Leader. Please contact me if you are interested or have any suggestions.
We are on the road to a post pandemic resurgence. Please enjoy the experience with your fellow members.
Looking forward to seeing you at our March 16th meeting.
Regards Ron Mitchell.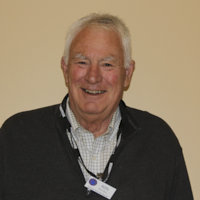 Cycling Group
Hello Fellow Probus Members,
The 2023 cycling season is fast approaching and your cycling group will commence riding on May 9th. This year, along with our Tuesday rides, we will be adding a Thursday afternoon social ride. Stay tuned to the web site for details as they become available.
To register you must complete the PBM Cycling Waiver available on the web site; Scan or photo the completed Waiver and email to pbmcycling@gmail.com (please note this cycling Email address)
Our Manuals, Waiver, Cycling Skills, etc., are all available and downloadable from the web site http://probusblue.ca/ under activities. Ride schedules and details will all be on the web site.
Please contact your committee at pbmcycling@gmail.com if you would like to be a ride leader or have ideas for cycling routes.
Hope to see many of you cycling with the group this season.
Your Cycling Committee.
Highlights of the February Meeting
Attendance remained strong at the February meeting with 74 members being there. We have 215 signed up which is VERY healthy and we look forward to increased engagement in activities, events and outings as we move forward.
There were 4 guests and Dave Eeaman welcomed 3 new members to the Club with their badges and documents. See the picture below with left to right Dave Eaman, Erik Chin, and Ewen McIlraith.
Annette Sandberg gave an historical review of the Niagara Escarpment which was interesting and well received.
Pierre Tousignant outlined a venture of gathering all the Probus Clubs in our area for a Golf League and Golf Events.
You can contact Pierre at pgtousignant@gmail.com for more details.
David Thomson gave details about the annual golf tournament. It will be held on June 27 at Duntroon Highlands. Details will follow at future meetings.
Bruce West presented an outline of our "rejuvenated" Activities and Outings with a associated "Activities Chart" which details the many continuing and NEW activities/groups we have developed. WOW!
Check the Activities page for details, updates, and contacts.
Profiler: Don Stockman; Don gave an description of his life from Farmboy to life insurance sales and back to farming.
Kultural Attache; good job Doug Ellsworth with timely joke telling. You can see them on the Website.